Practically dry, straight from the washer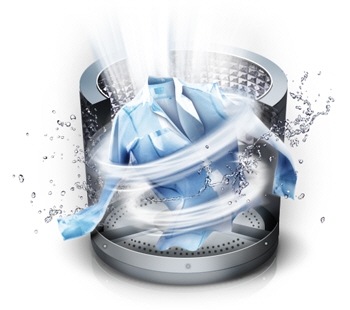 Harness the power of the wind to speed drying time and keep your clothes in pristine condition. By adding air vents and powering up the typical spin cycle, Samsung's Air Turbo Drying System minimises the moisture content in your clothes – lightweight fabrics can even be ironed straight from the washer! The increased air circulation provided by the Air Turbo vents not only dries your clothes, but also dries the washer tub to discourage mildew growth between loads, which keeps your clothing and your health in top condition.
What is Diamond Drum?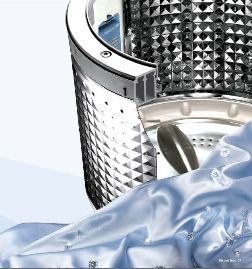 With the Diamond Drum, the holes are both 25% smaller and located deep within each diamond-shaped depression to prevent fabrics from sticking out and consequently being damaged.The Diamond Drum, with its embossed washboard surface, was shown in tests to reduce the textile area exposed to the harmful effects of washing by conventional washing machine drums by a tremendous 34%.

Super Clean (5 steps)
The diamond-shaped embossing drum washes clothes gently, without damaging fabric.
6 

Washing Capacity (kg)

Centre Jet

Pulsator

Diamond Drum

Drum type

540 x 906 x 568 mm

Net Dimension (WxHxD)
Washing Capacity
Design

Body color

Light Grey

Door

KT Grey

Panel Display

Green

Feature

Auto Restart

Yes

Child Lock

Yes

Drum type

Diamond Drum

Magic Filter

Yes

Pulsator

Centre Jet

Tempered Glass Window

Yes

Water Level

4 levels

Cycle

Additional Cycle

Speedy

Fuzzy

Yes

Number of Cycle

2

Rinse

Yes

Spin

Yes

Physical specification

Net Dimension (WxHxD)

540 x 906 x 568 mm

Net Weight

30.5 Kg

Gross Dimension (WxHxD)

572 x 988 x 629 mm

Gross Weight

34.0 Kg

Voltage/Frequency

220/50

Drum Material

STS