EZ Wash Tray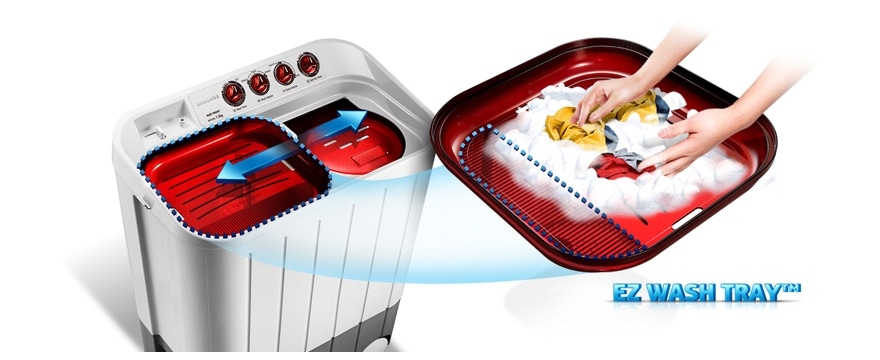 • The EZ Wash Tray™ adds to the convenience
• Scrub, rinse and more with the EZ Wash Tray™
The Samsung WT707QPNDMWXTL semi-automatic washer brings you versatility and convenience in the form of the EZ Wash Tray™, which helps you easily handle multiple laundry tasks. Use the built-in washboard to scrub stubborn stains out of shirts, slacks and more. Or slide the EZ Wash Tray over so you can rinse your laundry without having to drain the water in the tub. Its eye-catching red design also adds a bit of flair.
Easy to Move(Big wheel/Two way Inner handle)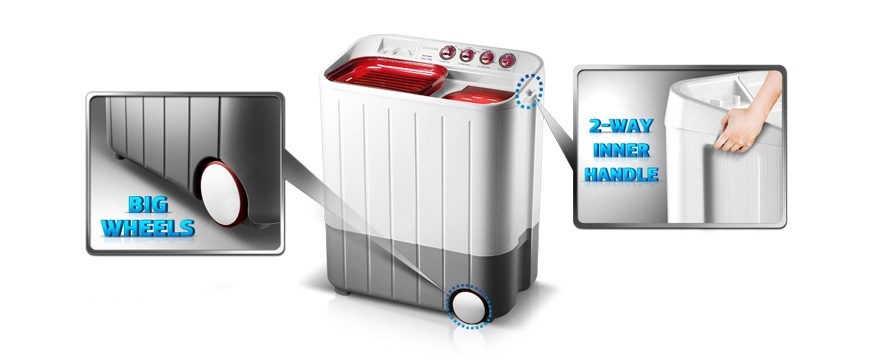 • Big wheels for convenient portability • An easier way to move the washing machine Put away the hand truck or furniture dolly. Big wheels on the bottom of the washer make it easy to move throughout your home. Roll the washing machine over to the wall to connect with the power outlet and water hose, or away from the wall if you're rearranging the room. And no matter whether your floors are vinyl, linoleum, hardwood or any other type, you won't leave scuff marks. There's also a two-way inner handle for easy gripping.
Durability (Rust Proof Plastic Body)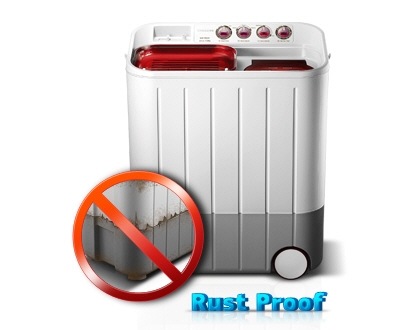 • A rust-proof body for longer durability
If you live in a hot and humid environment, rust is always a concern, especially when it comes to washing machines. The body of the Samsung WT707QPNDMWXTL is crafted from plastic, which prevents rust and corrosion for long-lasting durability, and ensures that the washing machine will look good for years to come.

Scrub Board
The Samsung WT707QPNDMWXTL doesn't just wash your clothes, it also gently scrubs your shirts, pants and more. A built-in scrub board offers a hand-wash effect that even helps remove grimy, oily stains from typically hard-to-clean dress shirt collars and cuffs. Keep your clothes looking their best longer.

Air Turbo Drying System
Wet clothes and blankets take a long time to dry, especially when you're line-drying in a humid climate. During the spin cycle, the Air Turbo Drying System rotates the drum rapidly, while dual air intakes draw in more air. By extracting more water from your clothes, the WT707QPNDMWXTL helps them dry faster.

Soak
Presoaking clothes is effective in removing many stains. Free your sink, washtub or bucket for other uses by soaking your clothes right in the washer itself. For added convenience, you can even set how long you want the clothes to soak before the washer starts.

Double Storm
Get your clothes thoroughly clean with Double Storm, a powerful dual jet system that varies the flow of water to move fabrics around the drum. Horizontal and vertical currents of water deeply clean clothes and sheets without tangling or twisting them.

Lint Filter
A lint filter insider the washer collects lint, hair and other materials that separate from your fabrics during a wash. This helps prevent debris from settling back on your clothes or dirtying the washer's interior. Even the discharge water is cleaner and less likely to clog drain pipes.

Buzzer
The Samsung WT707QPNDMWXTL features a buzzer that sounds at the end of the wash cycle. By letting you know that your clothes are clean, the buzzer helps you manage your time more efficiently. You're also less likely to forget you have wet clothes in the washer.