FEATURES of KENT Atta Maker & Bread Maker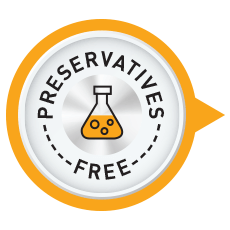 Preservative Free Bread
The breads and cakes available in the market are loaded with preservatives, chemicals and colour making it unhealthy. KENT Atta & Bread Maker lets you bake fresh and healthy bread right in your home without adding any preservatives.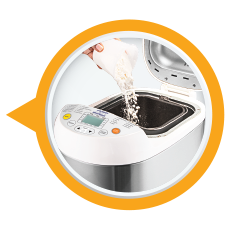 Hygienic Process
The automatic operation of the KENT Atta and Bread Maker makes kneading a hygienic process as there is no requirement to touch the dough with bare hands.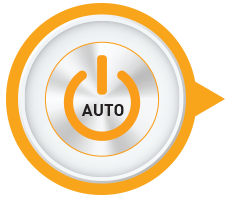 Automatic Kneading, Fermenting & Baking
This smart appliance makes it convenient for you to make any kind of bread or cake, jam or knead atta for poori, chapatti or parantha. All you need to do is add the ingredients, press the set desired program from the menu and relax. It's not just automatic; it's intelligent too.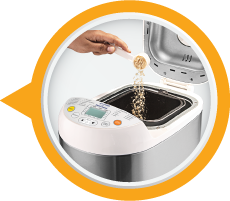 Customise Flavours and Ingredients
Customise ingredients by using different types of wheat or flour and treat yourself to delicious, healthy varieties of fresh bread. You can make gluten-free breads, even add dry fruits and much more.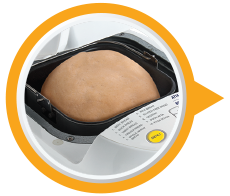 Healthy Atta Kneading
KENT Atta & Bread Maker also lets you knead healthy and fresh dough automatically and without touching it with hands. You can then make hot chapattis from the dough in the most hygienic manner.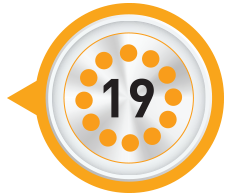 19 Program Menus
KENT Atta Maker & Bread Maker's 19 menu pre-set program makes cooking quick and easy.
Basic Bread | Quick Bread | Sweet Bread | French Bread | Whole-Wheat Bread | Rice Bread | Gluten-Free Bread | Dessert | Poori Atta | Pizza Dough | Chapatti Atta | Cake | Jam | Yogurt | Bake | Sticky Rice | Rice Wine | Defrost | Stir-Fry
Specifications
| | |
| --- | --- |
| Model Name | KENT Atta Maker and Bread Maker |
| Model Number | 16010 |
| Net Weight | 11 kg |
| Product Dimensions(mm) | L 360 W 245 H 300 |
| Input Power Supply | Single Phase 220 V AC, 50 Hz. |
| Power Consumption | 550 W |
| Mounting | Pedestal |
What is Atta Maker & Bread Maker?
Kneading atta manually is not only tiring but also unhygienic. Dedicated to improve health of consumers, KENT has introduced Atta Maker and Bread Maker. The innovative appliance makes it easy to prepare atta dough with one touch operation and ensures that you eat hygienic rotis and pooris at home. In addition to atta dough, the innovative appliance also helps you prepare freshly baked bread at home. Ready-made breads are not only full of preservatives but also prepared in unhygienic conditions. With the help of KENT Atta and Bread Maker, you can make fresh and healthy breads using any flour and choicest additives.
Uses of KENT Atta and Bread Maker
Unlike the conventional Atta Makers, which only prepare dough, Kent's innovative Atta & Bread Maker comes with 19 pre-set functions. As a result, in addition to atta dough and freshly baked breads, you can also prepare a number of other food items. Now easily prepare pizza dough, cake, yogurt, jam, sticky rice, rice wine and desserts using Kent Atta & Bread Maker. In addition to these dishes, it also stir-fries and defrosts food items.